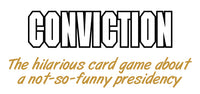 Conviction is the first card game where you and your friends deliver sweet judicial justice to Trump and his cronies by putting them on trial in front of Lady Justice herself. From Ivanka and Jared to Betsy DeVos and Paul Ryan, the gang's all included and ready to be convicted.
Buy on Amazon
Conviction: The Card Game
In the not-so-distant future, each player is a prosecutor attempting to convict Trump, his cronies, and a variety of political characters. The prosecutor who gets the most points wins the game and saves America!
100% of the profit from Conviction is contributed to charitable causes.
What are you waiting for? Do you have Conviction?
Buy on Amazon